Overview
Rotate LEDs up/down, left/right. 180-min. battery backup during power outage.
Details
● 180-MINUTE BACKUP LIGHT - Our emergency safety light provides a minimum of 180-minutes of backup light during a power failure. The dual lamp heads feature bright LED light and a 3.6V 6000mAh Nickel Cadmium battery.
● SIMPLE INSTALL - Easily secure this bright emergency light fixture with its slim profile to your wall. Wire it via a J-box or conduit to suit your application needs. See installation manual for easy install instructions. Mounting equipment located inside the fixture. Dual adjustable LEDs can swivel up to 340-degrees to reposition the light where you need it.
● UL 94V-0 RATING - This UL rating means this emergency light will not act as a fire promotor to further spread flames, due to its certified fire resistance and self-extinguishing characteristics. Also FCC certified for safety.
● COMMERCIAL GRADE - Our damp rated 2 Head LED Emergency Light is built to fit your safety needs in offices, schools, retail spaces, and everything in between. Designed for indoor use only.
● CERTIFIED - We uphold the highest standards for all our products by testing each product for optimal performance and safety. This exit sign is UL listed and FCC certified.
● SUNCO BENEFITS - 3-Year Warranty. We uphold the highest standards for all our products by testing by testing each product for optimal performance and safety. Sunco is proudly based in the USA, offering quality products at affordable prices backed by knowledgeable support specialists.
Specifications
2 Head LED Emergency Light Specifications Download Specs

Wattage
4W
Voltage
120-277V
Beam Angle
Dual LEDs swivel up to 340°
Dimmable
Non-Dimmable
Color Temperature
6000K, 6500K
Warranty
3-Year
Material
ABS
Included Components
Mounting Equipment (Wall or Ceiling), Built-in Battery
Certifications
UL, FCC. Also UL 94V-0 flame rating.
Battery
Built-in Nickel-Cadmium Battery (3.6V 600mAh), lasts for 180-minutes of backup power during power outages.
Compliance
Title 20
Working Time
180-minutes backup lighting during power outage.
Moisture Rating
Indoor Use Only, IP20, Damp Rated
Battery Included
Yes
Battery Type
3.6V 600mAh Nickel-Cadmium
Backup Light Details
~180-minutes
LED Heads
2
Charging Time
24 Hours
Mount Type
Wall
Fire Rating
UL 94V-0 Flame Rating
Downloads
Customer Reviews
Customer Reviews
Write a Review
Ask a Question
11/09/2022
Stephen K.

United States
Exceptional Value!
Amazed at the simplicity of this product. Yet fully functional right out of the box. Lights were easy to set up. Plug in the battery, connect the two power wires, mount to the wall, aim the lights, done! Would buy again in a heartbeat.
11/07/2022
Duncan H.

United States
a handy thing to have if you have a power outage
I modified mine so I could plug them into an outlet and hang them where I wanted - even use it as a bright 3 hour flashlight in case of emergency. I live in a rural area with at least one or 2 power outages a year and these are great as I have a generator I have to set up and it doesn't run my whole house. Nice bit of protection.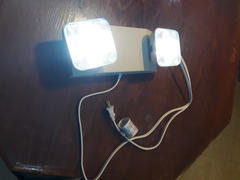 10/30/2022
James M.

United States
Maint. Engineer
Very satisfied with the results of these lights